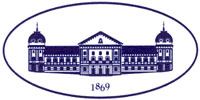 Address: 1, 15 Noemvri Str.,
1040 Sofia, Bulgaria

Tel.: (+359 2) 989-84-46

Fax: (+359 2) 981-66-29
(+359 2) 986-25-23
(+359 2) 988-04-48

Telex: (067) 224-24 BG

Web-site: http://www.bas.bg
The Bulgarian Academy of Sciences (BAS) is a National institution, Bulgaria's biggest centre for fundamental and applied research in all areas of knowledge with unique potential for complex interdisciplinary scientific approach.
History
As Bulgaria was under Ottoman occupation, Bulgarian émigrés founded the Bulgarian Literary Society (BLS), in Brăila, the Kingdom of Romania on 26 September 1869. The Society elected Prof. Marin Drinov as its first President. In 1870 the Society began publishing a journal. Nine years after its foundation, after Bulgaria got its freedom, in October 1878, the General Assembly of the Society voted to move the headquarters to Sofia, the new capital of Bulgaria. On 1 March 1893, the BLS moved into its own building, right next to the Bulgarian Parliament house. On 6 March 1911, the Bulgarian Literary Society was renamed to the Bulgarian Academy of Sciences (BAS).
The BAS became a member of the Union of Slavonic Academies and Scientific Communities in 1913, and joined of the International Council of Scientific Unions in 1931.
The Academy is an autonomous organization for research investigations. It comprises of autonomous institutes, laboratories, centers and museums. BAS has an Assembly of Academicians (Full members of BAS), Corresponding Members and Foreign Members of BAS. BAS publishes and circulates various scientific works, encyclopedias, dictionaries and journals, and runs its own publishing house.
Governing bodies:

General Assembly


Board of Directors


Executive Council


Central Administration
Departments
Institutes of BAS are organized in 9 main sections:

Mathematical Sciences


Physical Sciences


Chemical Sciences


Biological Sciences


Earth Sciences


Engineering Sciences


Humanities


Social Sciences


Specialized and Supporting Units
more broadly united within three main branches of science:

Natural, mathematical and engineering sciences


Biological, medical and agrarian sciences and


Social sciences, humanities and art
A total of 52 institutes, 15 laboratories, 7 centers and 3 museums are affiliated to BAS. Specialized and Supporting Units include Central Library (founded in 1869 and housing more than 1, 900, 000 pieces/books and other literary sources), Scientific Archives, Botanical garden, Academic Publishing house 'Prof. Marin Drinov".